Physical Education
Intent
PE at Manor Park Primary Academy aims to provide an ambitious, progressive and holistic curriculum which enables children to develop their physical literacy, as well as their emotional and thinking skills. Through the Real PE curriculum we intend to give all of our children the knowledge and cultural capital that they need to succeed in their lives. It is our intent at Manor Park Primary Academy to teach the children the fundamental movements that will underpin the foundation of a variety of sports. Alongside this, the children will develop their personal, social, creative and cognitive skills, which together will support them to achieve a fully holistic skill set to support them through life. We aim to provide high quality PE lessons in which the children are able to develop their fundamental movement skills of agility, balance and coordination, as well as emotional and thinking skills such as tactical awareness, independence, confidence working collaboratively, and communicating effectively. We provide teachers with the confidence to teach PE at a high quality, through training, team teaching and specialist support. We want to encourage a love of physical activity and to support children and parents to understand the importance of a healthy lifestyle and how this goes beyond physical activity. Furthermore, we aim to supplement the core PE lessons with additional enrichment activities, such as yoga sessions, a range of clubs, trips and opportunities.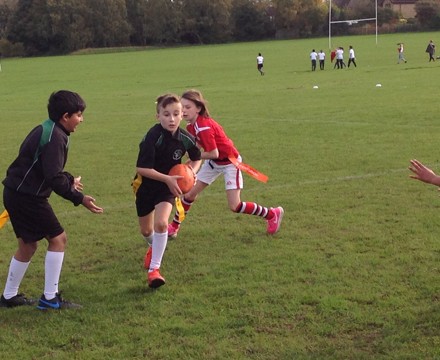 Implementation
Through excellent behaviour for learning, teachers create an environment that allows the children to focus on their learning. The resources and planning reflect the school's ambitious intentions for the PE curriculum and clearly support the intent of a coherently planned curriculum, sequenced towards cumulatively sufficient knowledge and skills for the children's future. All children are included and lessons are adapted to suit the needs of all of the children.
Foundation Stage children receive daily access to activities indoors and outdoors that build on their fine and gross motor skills and physical development. Reception children also enjoy a 45 minute PE session a week where children are encouraged to develop their core strength and hand-eye coordination through a variety of games and skills. It follows the Real PE scheme, in line with the rest of the school. In addition, the EYFS children engage in a variety of different fine motor activities, where children use their fingers and hands to pinch, snip, squeeze, twist or thread as well as taking part daily in dough disco. We encourage children to be active and use games, songs, dances and yoga within the class and outside.
In KS1 and KS2, all children take part in PE lessons every week where learning builds upon prior knowledge and skills. Children are timetabled for 2 lessons per week covering Gym, dance, games and the fundamental skills. These lessons are planned and adapted from the Real PE Scheme of Work, where we are a legacy school. Children in years 1-6 have one lesson with a specialist sports coach and the other with their class teacher. Children in years 3-5 also have 10 sessions of swimming for one of their PE lessons that term. The Jasmine platform, provided by Real PE, allows staff access to a variety of resources that help develop their confidence to deliver high quality PE. Schemes of work are inclusive and progressive and they are fully aligned to the National Curriculum. Teachers are provided with training on how to use the platform to its fullest potential as well as teaching and learning support through regular training and coaching. This allows for the children to be ambitious learners who are aware of their own progress and allows them to progress and challenge themselves. Children are encouraged to talk about their learning and have positive discussions with their peers.
PE lessons allow children to develop a deep knowledge and understanding of movement and how to progress across the curriculum. The lessons focus on the development of agility, balance and coordination, healthy competition against themselves and others, and cooperative learning. They allow all children to develop confidence in a range of abilities that will not only help them succeed in sport, but in life. These include their creative, cognitive, social, personal, physical and health and fitness skills (Real PE cogs). The children are provided opportunities to transfer these skills into sports and many represent the school in these sports throughout their time at Manor Park. Physical Education (both participation and core values) are celebrated at Manor Park through assemblies, displays, certificates and twitter. This creates a positive environment where children feel proud of their achievements and raises the profile of PE and sport in our school.
PE is assessed through the Jasmine platform. It allows the teacher, subject leader and specialist coaches to monitor each child's progress and how they develop throughout the year. This shows clear progression and allows for support to be given where needed.
In order to promote healthy lifestyles, we discuss the impact of exercise on our bodies and the benefits that it brings. We encourage parents to pack healthy lunchboxes and KS1 offer a fruit snack and milk during the day. We build in opportunities for short bursts of activity and mindfulness, using a range of resources such as Wake and Shake, the Daily Mile and Just Dance.
Click here to find out more about Real PE or see below for our whole School PE and Dance Overviews.
At Manor Park, we have an electronic PE knowledge and skills progression map available, outlining the sequencing of knowledge, skills and vocabulary. Please contact the school directly for further information.
Impact
Children develop and enhance their fundamental movement skills as well as their cognitive, social, creative and personal ones. They gain a detailed knowledge across the curriculum and as a result of this holistic approach, achieve well - not only in PE lessons, but across the curriculum. Children enjoy their PE sessions and are active throughout most of the lesson. They become independent, but can work collaboratively and can articulate this to others. Children recognise the impact of physical activity on their bodies and can talk about healthy living. Children have the opportunity to participate in healthy competition and as a result feel a sense of pride and accomplishment. Children are happy, confident and enjoy their learning, not only in PE, but across the curriculum.