Mathematics
At Manor Park Primary we believe that understanding mathematics is a key life skill which helps us make sense of our world, providing a precise means of communication, using numbers, symbols and shapes. It is a powerful universal language, used to explain, predict and represent events and tackle problems in everyday life.
Children at Manor Park Primary School develop their knowledge and understanding of mathematics through practical activity, exploration and discussion during mathematics and whilst studying other subjects. Each child should be able to think and solve problems mathematically by using the appropriate skills, concepts and knowledge. They should be provided with rich and enjoyable experiences related both to their individual needs and to the wider requirements of society.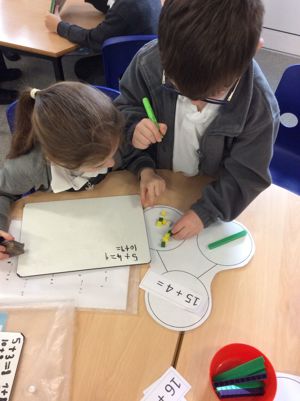 From EYFS to Year 6 children are taught Maths using the Power Maths methodology. It has been designed to support and challenge all pupils, and is built on the belief that EVERYONE can learn maths successfully. Children are not taught rote learning, but instead are supported to develop problem solving, thinking and discussion.
Lessons are progressive and build upon different skills:
Discover – each lesson begins with a problem to solve, often a real-life example, sometimes a puzzle or a game. These are engaging and fun, and designed to get all children thinking.
Share – the class shares their ideas and compares different ways to solve the problem, explaining their reasoning with hands-on resources and drawings to make their ideas clear. Children are able to develop their understanding of the concept with input from the teacher.
Think together – the next part of the lesson is a journey through the concept, digging deeper and deeper so that each child builds on secure foundations while being challenged to apply their understanding in different ways and with increasing independence.
Practice – now children practice individually or in small groups, rehearsing and developing their skills to build fluency, understanding of the concept and confidence.
Reflect – finally, children are prompted to reflect on and record their learning from each session and show how they have grasped the concept explored in the lesson.
Further information outlining the Power Maths approach and more details for individual year groups can be found in the 'How to help your child in Mathematics' parent booklets available as a link in the 'Supporting Learning at Home' section in each year group.
For more information on the teaching and learning of Maths at Manor Park, please see our Maths & Calculation Policies and Maths Overview.