Curriculum Implementation
Curriculum Implementation
Curriculum and pedagogy
Curriculum planning enables learners to make connections and interconnections in order to ensure that knowledge (substantive) and skills (disciplinary) are learned progressively to reach agreed end points. Lessons enabling retrieval practice (reviewing previously taught objectives), formative assessment, metacognition and opportunities for teachers/support staff to address misconceptions, means that learning is moved from the short term memory and embedded into long term memory so that learners know more, remember more and do more.
We consider context and relevance for learners at Manor Park Primary when planning relevant learning and meaningful wider opportunities, so as to maximise each child's 'cultural capital' and knowledge of British values.
The curriculum at Manor Park draws on the knowledge of successful evidence- informed strategies and draws upon our Teaching and Learning Strategy. Staff are empowered by innovative performance management and extensive professional learning opportunities for staff at all levels.
The curriculum is planned and delivered through an interconnected approach, where meaningful. As a starting point we utilise the Cornerstones Curriculum 22 learning projects and personalise it to the context and need of our children.
Please see our Learning Project Overview below.
Curriculum principles:
Each school has a curriculum that is ambitious for all (through adaptive teaching and other strategies), giving all learners the 'cultural capital' they need for the future.

The curriculum is structured and sequenced from EYFS to year 6, with knowledge of KS3, so that pupils can build an increasingly rich schemata as they move through the primary years. Thus preparing them for current and future learning.

At each school, the curriculum is taught using the key aspects of our LEO Teaching and Learning Strategy. For example, feedback, retrieval practice, metacognition, adaptive teaching, oracy, technology, including assistive tech and modelling/explaining and questioning.

Learners demonstrate detailed knowledge (substantive) and skills (disciplinary) across the curriculum which progresses as learners move through the curriculum. In EYFS, teacher questioning, opportunities and continuous provision are used to prepare pupils for future learning.

Learners have opportunities for explicit and implicit learning of new vocabulary across the curriculum.

Reading is at the heart of the curriculum, through reading across the curriculum, promoting a love of reading and reading aloud to pupils. Pupils read widely, speak and write well across the curriculum (disciplinary literacy).

The teaching of younger readers focusses on a robust systematic synthetic phonics programme, with materials that match their phonic knowledge. This is also continued into KS2 for learners who need to rapidly catch up.
'Teachers Have Particularly High Expectations Of Pupils. Lessons Capture pupils'

Ofsted 2015
Specialist Teaching
In some subjects lessons are delivered by subject specialists and instructors. This includes PE LEO sports coaches, specialised swimming instructors, as well as a French teacher and a Yoga teacher. Music is taught by our LEO Music director and music tuition is delivered by Sutton Music service. The progression and coverage of these subjects are checked by teachers and also by the subject leaders.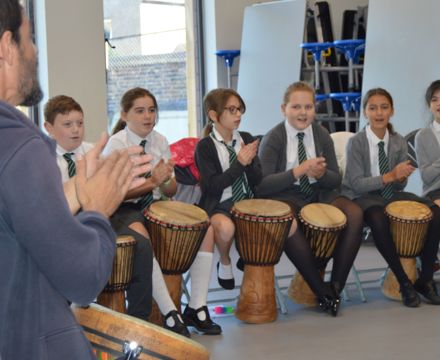 ---
Discrete Teaching
Some subjects are taught discreetly and outside of the projects. These are usually PE, PSHE, RE, Computing and MFL (for KS2 only). However links are made where appropriate. The progression coverage of all subjects is checked by teachers and also by the subject leaders.
PSHE is embedded throughout the school day and school life and a scheme is followed to ensure all relevant areas are covered and that a range of life skills are taught and embedded in areas such as citizenship, finance, sex and relationships education and community.