English
Spoken Language
The aim is for children to communicate their thoughts, ideas and opinions clearly and succinctly, as well as to listen to and reflect on the ideas of others. We encourage children to turn-take in conversations and adapt their speech to a range of situations and audiences.
The children are encouraged through drama activities in many curriculum areas to investigate and experiment with movement, speech, space, physical objects and sound. They may be told to mime situations in drama to increase inventiveness and to develop non-verbal communication skills.
Through group work, children's skills for negotiating and decision-making are developed e.g. role play, mime, and puppetry.
The children are encouraged to offer a personal response to the performances of others, e.g. other pupils, amateur and professional groups.
Speaking and Listening is promoted through Class Assemblies, Circle Time, discussion, turn taking, roleplay activities, hot-seating, acting out of play scripts, P4C sessions (in which children discuss morals, philosophy and develop thinking skills), improvisation and debating opportunities.
---
How we teach Reading
At Manor Park we want children to develop a life-long love for reading. We aim for the children to become independent, fluent and enthusiastic readers, who read widely and frequently with the skills to access, engage with and enjoy a wide range of texts.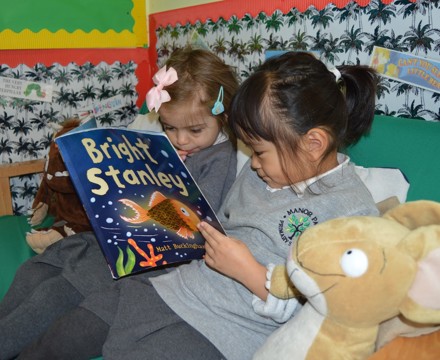 Phonics
At Manor Park we use the Essential Letters and Sounds progression programme (ELS). ELS is a DfE validated SSP scheme; a complete programme which supports children in making progress to become fluent and confident readers and writers. A focus is placed on blending to read and segmenting to spell. This focus provides children with the skills they need to begin to read and write words, captions and whole sentences as soon as possible.
The teaching of Phonics begins in Reception and is taught everyday. Nursery focus their phonics learning on Phase 1. Phonics continues throughout Reception, Year 1 and, where needed, into Year 2 so that by the end of KS1 children have developed fluent word reading skills. From Year 2, children consolidate their knowledge and learn different spelling rules and when to apply them. In KS2 some children may continue with phonics to ensure that they are increasingly secure in the decoding skills required for independent, fluent reading. Please click here to find out more about the ELS phonics programme.
Reading
Children have opportunities to apply their developing phonic knowledge and skills in the context of shared reading and writing across the curriculum. For one-on- one and guided reading, children who are still learning phonics have fully decodable books that are closely matched to their developing phonic level. We draw upon Collins Big Cat (for Letters and Sounds) texts which are supplemented with books from different schemes. These reading books are very closely matched to our phonics programme and are grouped accordingly so that children may focus on fluency and understanding. Children who have completed the phonics programme have access to age appropriate texts for one to one and whole class reading so that they may focus on developing their vocabulary, fluency and understanding of a range of texts.
During Individual, Guided or Whole Class Reading sessions, children are involved in lots of discussion, reflection and questioning about the text. In Reception and KS1, Individual Reading Books are closely matched to the phonics sounds that children are learning. Children are encouraged to read and reread a text to revisit, practice and apply new and known sounds and to develop their reading fluency. During Guided and Whole Class Reading, children follow the same text in groups, usually with an adult, to support.
---
Reading for Pleasure
Click here to watch our Spring Term Reading Champions Celebration Video.
At Manor Park we want children to develop a life-long love for reading. We encourage children to read for pleasure and to develop the ability to read fluently and with understanding.
Children in the Foundation Stage start with Lilac wordless books where they use pictures to develop their language skills, including story language, through discussion about books. We also give children the best start we can by teaching them to read as soon as possible so that we can provide them with the skills that they need for the future. At Key Stage One and Two, children access a range of high-quality engaging texts across a range of genres. They may be linked across the subjects or year group learning projects, with teachers sharing and modelling a range of reading strategies.
At Manor Park we encourage our children to become 'Reading Champions' by choosing to read, encouraging others to read, sharing with others what they have read and challenging themselves when reading. These skills are celebrated regularly throughout the school. We have a dedicated library area that all classes have access to throughout the week which is generously stocked with age appropriate and popular texts. A reading event is also organised each term to continue to promote a love for reading for all of our students. This may include a visit from an author, world book day and book fairs.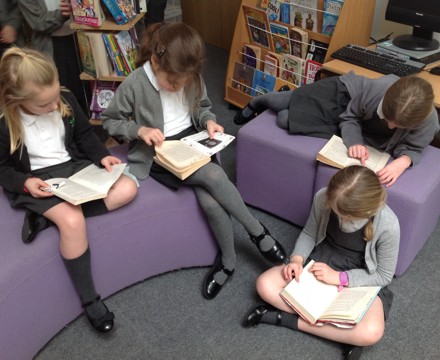 LEO Virtual Library
Visit the LEO Academy Trust Virtual Library and enjoy reading or listening to a story from the selection of Children's books. There's something for everyone from Nursery through to Year 6.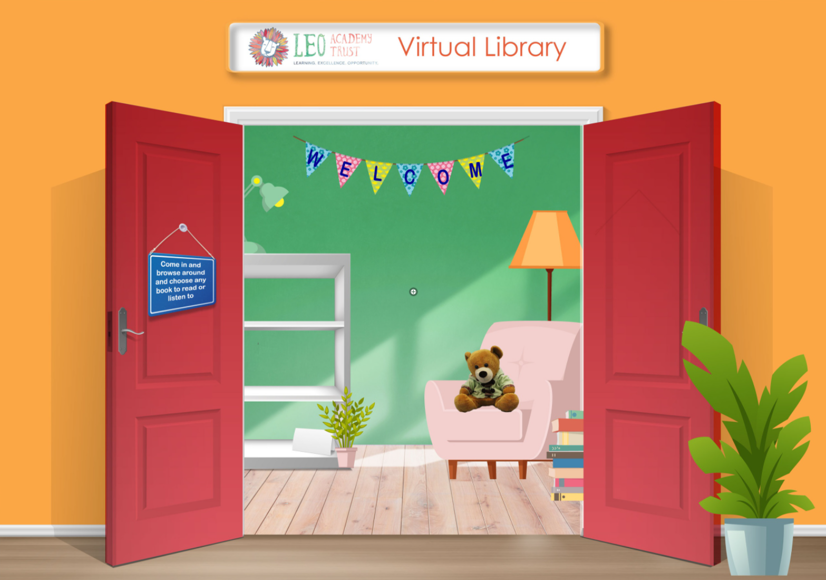 ---
How we teach Writing
Children are taught to match their writing style to differing audiences and purposes and to regard themselves as 'writers'.
We aim for the children to write independently and to develop their ability to write in a wide range of genres, both fiction and non-fiction.
In KS1 pupils are encouraged to collect ideas for writing by thinking out loud using 'Think it, speak it, write it, check it' to ensure that their meaning is clear. Children are taught to use finger spaces, full stops and capital letters and may progress to using other forms of punctuation such as question and exclamation marks. They are taught about using engaging and meaningful vocabulary to make their writing interesting. By the end of KS1, pupils may begin to evaluate and make some improvements to their writing.
In KS2, children are taught the skills of exploring, planning, drafting, proof-reading and editing their work and that of others. Children are introduced to more complex sentence structures and therefore develop the correct use of a wider range of punctuation marks. Pupils will apply their skills through a range of genres considering vocabulary and structures appropriate for the purpose and audience.
See below for our Whole School Overview of Writing.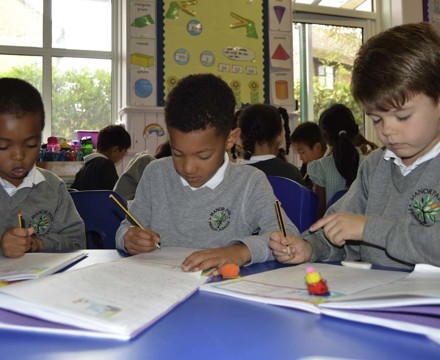 ---
Spelling
Our aim is to encourage pupils to become independent and accurate in their spelling; to be confident in using a wide vocabulary in their writing; and to be aware of the difference between spoken dialect and written Standard English.
At Manor Park, teachers use the Scofield and Sims spelling programme for planning. This scheme has been adapted to ensure coverage and progression of the English National Curriculum Objectives for Spelling from Years 1-6. Spelling is taught as discrete sessions for approximately 10 minutes, 3- 4 times weekly. Each week children will be taught a new spelling rule or letter string and will have the opportunity to practise and apply their new learning.
Research has shown that a flowing, clear and speedy handwriting style helps to improve spelling. Spelling of common exception words and letters and sounds groups are used when practising handwriting through our PenPals scheme.
---
Handwriting
Handwriting underpins such a large proportion of a child's work in school. It is important it is taught carefully and thoroughly however enjoyment of writing as a skill should become and remain of paramount importance in each child. We aim to give the children the opportunity to grasp and refine their handwriting skills to the best of their abilities.
At Manor Park Primary Academy, teachers use 'PenPals for Handwriting' for planning and resources to ensure coverage of the English National Curriculum Objectives for Handwriting.
In the Foundation stage, children working towards the early learning goals for handwriting will be engaging in activities to develop their gross and fine motor skills to prepare them for writing. When appropriate, they will learn basic letter movements before beginning to practise correct letter formation. Children will usually begin to join some letters by the end of year 2 and continue to secure joins and develop speed and fluency from years 3-6. All/ most pupils should be secure in joining by the end of year 6.
For more details for individual year groups please see the link to parent booklets in the 'Supporting Learning at Home' section in each year group.