Curriculum Delivery
The curriculum is planned and delivered through creative themes that are in place for each term or half term, and most subjects are linked to these ensuring the appropriate level skills and concepts are covered. Any subject learning which can not be linked is taught discretely.
English and Maths are taught daily and lessons have a variety of length based on the topics being taught and the additional time that may be needed to explore these topics.Teachers flexibly plan topics always ensuring coverage of the National Curriculum requirements for each year group. Children have opportubities for daily reading and time for extended writing opportunities. Power Maths is taught throughout the school.
The Cornerstones Curriculum is based on the four corners of learning. Each stage of learning has its own characteristics which help children learn and stay motivated during each Imaginative Learning Project (ILP)
The first three days are 'engage' days when teachers creatively plan usually a visit or a speaker or event to engage children in the topic for that half term. The objective for these three days is to enthuse and motivate children for learning. The next few weeks is known as 'develop' stage where children develop deeper knowledge and skills. They then apply skills and knowledge learnt and solve problems through the 'innovate' stage and finally become performers in the 'express' stage and reflect on and celebrate their learning.
Please see our Learning Project Overview for 2021-22.
'Teachers Have Particularly High Expectations Of Pupils. Lessons Capture pupils'

Ofsted 2015
Specialist Teaching
On occasions children have some lessons delivered by subject specialists and instructors. E.g. Sutton Grammar Sports Instructors work with specific year groups for a set number of weeks. The children are taught swimming by Swimming Instructors at a local swimming pool in KS2. A French teacher and a Yoga teacher plan and teach with the class teacher present. Year 3-6 receive music tuition from Sutton Music in saxophone, tenor horn and drumming.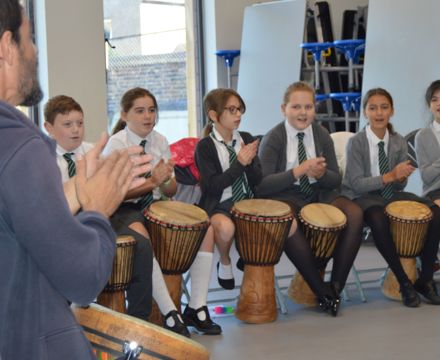 ---
Discrete Teaching
Some subjects are taught discreetly and outside of the projects. These are usually PE, PSHCE, RE and MFL (for KS2 only). However links are made where appropriate. The coverage of all subjects is checked by teachers and also by the subject leaders.
PSHCE is embedded throughout the school day and school life and a scheme is followed on a 2 yearly cycle to ensure all relevant areas are covered and that a range of life skills are taught and embedded in areas such as citizenship, finance, sex and relationships education and community.
In all year groups children are encouraged to question and consider points of views with a focused lesson on Philosophy for Learning. This is taught regularly where the children are encouraged to discuss and debate and to develop their understanding of philosophy and their thinking skills. PSHCE and P4C lessons may change according to the needs of the class.